Our 4-H program provides a creative a supportive environment in which culturally diverse youth and adults can reach their full potential. Our local county program works to develop life skills to help young people become self-directed, productive citizens. We also work to empower adult volunteers who multiply the efforts of our local county Extension staff.
4-H is for Families! The 4-H program is a family oriented program which empowers youth to reach their full potential by working and learning in partnerships with caring adults. We encourage parents and families to attend activities with 4-H members, including most club and county activities.
Who Can Join 4-H
"The 4-H enrollment period begins October 1 of each year for youth ages 9-19. Children 5-8 years of age are encouraged to enroll in a special introductory program called Cloverbuds.
Please review age requirements for Cloverbud, Novice, Junior and Senior 4-H members in New Mexico 4-H Policies and Procedures Handbook."
Link to the Procedure Handbook.
The enrollment deadline for Otero County is February 1.
Learn more about How to Join Otero County 4-H.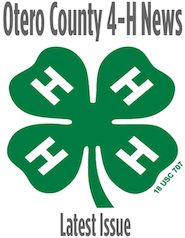 Click for the Latest Issue
Otero County 4-H Council
The Otero County 4-H Council plans, coordinates, and supports the overall 4-H County program. 4-H Council meetings are held monthly on the third Thursday of the month, 6:30 pm, at the Otero County Extension Service (401 Fairgrounds Rd, Alamogordo, NM). Each 4-H Club in Otero County may be represented at the county council with four (4) youth voting delegates. Youth delegates must be a 4-H member in good standing within their 4-H Club. Otero County 4-H Council officers are elected during the October meeting.
4-H Council Officer Application Form
Otero County 4-H Council officer application forms are due in the Extension Office by October 16,2023.  Elections of council officers for the 2023-2024 4-H program year will be held on October 19, 2023 at the Otero County Extension Service.
Outstanding Leader Award Nomination Form 2023
An adult volunteer that is an enrolled 4-H Leader in Otero County and has demonstrated outstanding service and contribution o the Otero County 4-H Program.
Meritorious Award Nomination Form 2023
An Otero County group, organization, business, or individual, outside of 4-H, who throughout the years has donated significantly of their time and effort to the Otero County Program.